1 Infusion set with Three-way Stopcock
2-4 infusion set
Burette set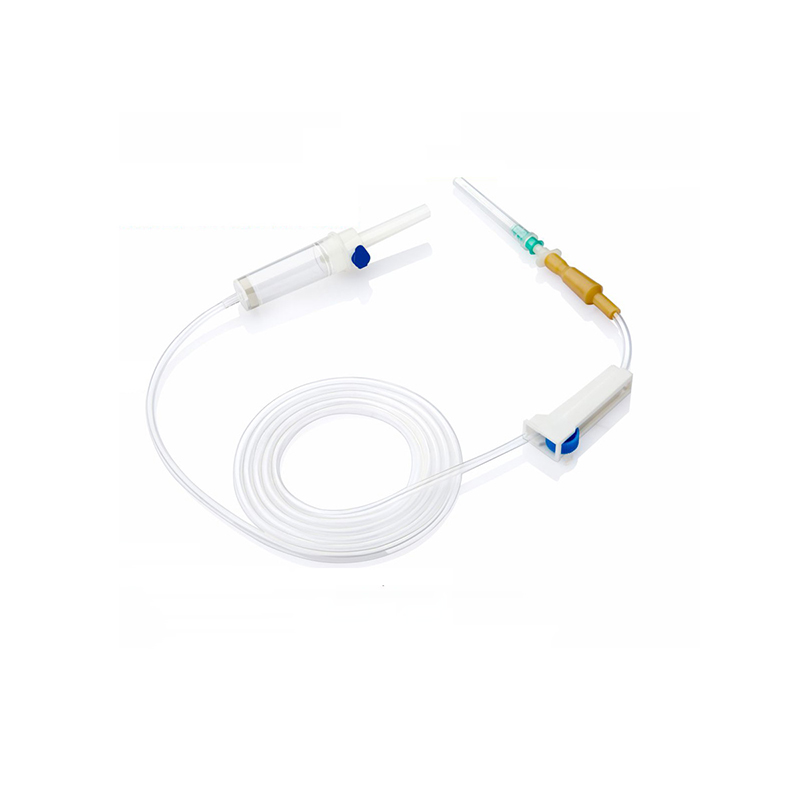 Disposable infusion set
● Apply to gravity infusion
● Made of Medical grade non-toxic PVC
● Suitable for infusion bottle or infusion bag
● Injection drip chamber with medicament filtermembrane
● Optional: Standard luer slip, Luer lockconnector, Needle and Y type 3 ways injection port, Latex injection site
● Tube can be as request 1.5M, 1.8M or 2.0M
● Package: PE bag or Paper-poly pouch
● EO gas sterilized, pyrogen-free
Instructions for use:
1. Tear off the single package and take the IV set out.
2. Close the roller clamp, remove the protective cap, punch thespike into the container.
3. Open the roller clamp and expel the air bubbles, close the rollerclamp.
4. Apply needle into the patients vein.
5. Adjust the flowing rate.
6. 20 drops of distilled water delivered by the drip tube areequivalent to 1±0.1ml.
Disposable precisioninfusion set
1.Application:apply to gravity infusion;
2.Materials: Made of medical grade highelastic material,soft and anti-crush;
3.Suitable for infusion bottle or infusionbag;
4.Tip:Luer slip or Luer lock;
5.Flow regulator: humanizationdesign,fluency,precise,comfortable;
6.Sterile: By EO gas, Non-Toxic,Non-Pyrogenic
7.Certificate: CE and ISO13485
Product advantages:
1.Precision filter: Precision filter canfilter diameter ≥5μm insoluble particles, the filtering efficiency is >95%, when the solution arrive the filter,the insoluble particles trapped, to stop them enter into blood and harm humanbody.
2.Auto stop liquid: When infusion isfinished, the solution below the filter can auto stop, delay blood return, toensure patients really feel at ease, reduce the work pressure of nurses.
3.Auto vent: The gas through the filter canbe automatically discharged through the filter to prevent gas from enteringinto patient's blood vessels, reduce the traditional exhaust operation.